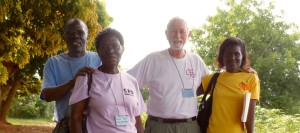 David and Martha Dobra, CFOers from Georgia, USA, became friends with Charles Kunya and Ruth Mutesi from CFO in Uganda, when they were all in Peru for the CFOI 10th International Camp in 2012.  These American and Ugandan families have been corresponding ever since, and last summer David was able to visit Uganda and attend Iganga CFO Camp.  I asked David to write about it, and here it is, below.  Consider visiting a CFO in another country.  Please pray about coming to 11th International Camp in the Philippines in 2017.  It will open up your world!
Dear Campers,
     I would like to share some experiences that will stay with me for a lifetime. I will always have the pictures and videos, but the impression most in my heart is the warm and genuine love I received from all I met; the family, children at school, campers and church family. This is my first time to visit East Africa and a CFOI retreat. Ruth Mutesi and Pastor Charles Kunya were my hosts. I stayed in Pastor's home and enjoyed living with the family and experiencing their culture for twelve days.
     The Iganga CFO Camp met in the church of Pastor Charles and many church members attended. Camp started on Friday but I didn't arrive until the afternoon. Because there is no electricity there the camp ended on Friday before dark and continued the next morning about 9. We did the full camp program and I was asked to give a talk. It was a joy to hear them singing in their own language and in English the songs I knew. Of course, I sang with them in the Spirit as the Spirit led.
     I learned it is difficult for this CFO to have camp because of financial need. But this was not going to stop them from being willing to share what they had with each other. On Saturday we shared a meal together and many children came to enjoy it with the adults. In the prayer group time we saw children lay hands on each other and pray over each other. These little ones have the faith Jesus spoke about. "You must have faith as a little child to live in the Kingdom of God." What they lack in resources they make up in faith and love.
     I came away wanting to give into this camp out of our abundance. After sharing the pictures with leaders at Zone 8 retreat (Southeastern USA) they said they want to help them in the future. Jesus said "pour into what I treasure and your heart will be free to treasure me."  I believe He treasures these camps and people. Matt. 6:19-21
     Only God knows how He wants to bless them for His Glory and Kingdom. All over the world His Spirit is moving.
     Father, bless those in Iganga CFO Camp and all of CFOI.
In His Service
David Dobra, North Florida CFO